our-athletes
Stoke Hotel
Sponsored Athletes
We are Stoked to introduce to you the following amazing, talented and outdoor-loving stoke hotel athletes. This group of awesome ambassadors live and breathe nature like we do. They inspire us to get outdoors and connect with our beautiful Revelstoke neighborhood and we want them to inspire you too! Learn all about our sponsored athletes and connect with them when you see them here at The Stoke Hotel.
Elyse Saugstad
Meet Elyse, our free ride skiing, surfing, mountain biking, fly fishing athlete that also loves hiking and yoga! She was born and raised in Girdwood, Alaska but now has a hub in sunny California where she travels as a professional skier. Even though she thinks Revelstoke has one of the best ski resorts in North America, she loves the back country surrounding our valley even more because there is so much good terrain and Roger's Pass offers the best top out views. You might catch her here at The Stoke with her tiny 2.5lb yorkie named Theo (who we absolutely adore!). Check out Elyse on instagram @elysesaugstad and Theo at @theothebrave. Her website is www.elysesaugstad.com.
MEET CODY TOWNSEND, OUR FIRST OFFICIAL STOKE HOTEL ATHLETE!
Cody is originally from sunny Santa Cruz, CA. In the wintertime, he travels through the mountains as a professional skier, and in the summer he loves surfing, climbing, mountain biking, and fly fishing. He loves the easy access to the backcountry here in Revy because it has tons of terrain with minimal hiking. Apparently, he has a secret spot which he wouldn't reveal to us... you'll have to make friends with him while he's here at The Stoke Hotel and see if he'll let you in on it! Check Cody out online:
INTRODUCING STOKE HOTEL ATHLETE SARAH BULFORD!
She's an Okanagan Original now living in Squamish, BC. Her sport of choice is ski touring and climbing, and she currently works as a Program Coordinator for a Forestry Skills development company, as well as creates content for GoPro, Redbull, Arcteryx, DPS Skis, and Leatherman Canada. She loves ski touring through Roger's Pass and hitting up Revy's ski resort itself. If you love inspiration and amazing mountainous photos that inspire you to grab a #KeyToTheStoke, check her out!
THIS IS KATIE PURDY, OUR BRITISH OUTDOOR ENTHUSIAST LIVING IN DENVER, COLORADO.
Playing on mountains with her snowboard, snowmobile, and mountain bike is her passion, and when she's not doing that she's managing properties at home. Her favourite place in Revy is the ski resort itself on a powder day, and we couldn't agree more! Katie has a bunch of awesome pics on her Instagram, give her a follow, and make sure you introduce yourself to her when you see her hanging here at The Stoke!
MEET ANDREA BYRNE, AVID FREESKIER BORN AND RAISED IN THE SMALL MOUNTAIN TOWN OF FERNIE, BC.
Aside from killing it on the slopes, she enjoys trail running and saltwater fishing in the summertime. She currently works at a remote wilderness resort on Vancouver Island and is studying the hospitality tourism industry with hopes of one day managing a resort. Her favourite area in our valley is the epic Rogers Pass and the ski resort itself. Check her out on Instagram @_drethegirl_ and keep an eye out for her hanging in the common areas here at The Stoke!
Alan moved to Revelstoke in 2013 and has sinced call this beautiful town home.
Driven by a love to be outdoors, Alan pursues a number of activities including Skiing, Biking and Paragliding. Look to the skies (or Instagram) this winter to see him speedflying; combining skiing and flying in a close terrain acrobatic display.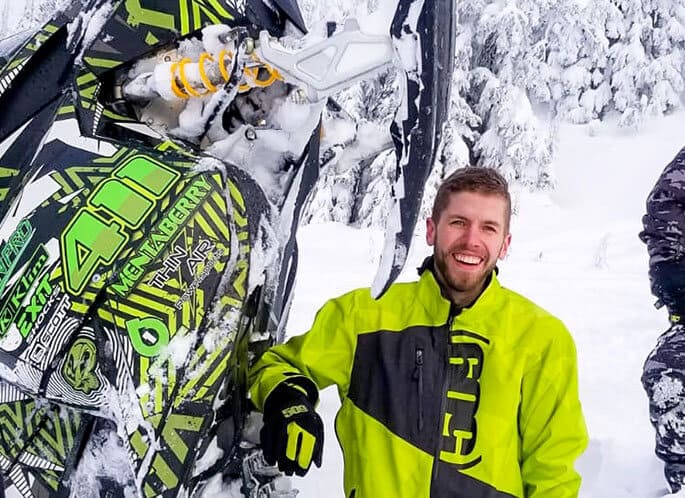 Snowmobile Athlete Brad
Introducing our snowmobile loving athlete from Vancouver, Brad! He loves riding anything that has a motor, plus hiking, fishing and mountain biking. He's never been riding in Revy before, but he loves the scenery, people, shops and restaurants. When he's not exploring the outdoors you can find Brad working in transportation for the film industry. He's been working on the Netflix show 'Riverdale' for the last 3 years, so it sounds like we'll have a celebrity in the house this winter! Check Brad out on Instagram or Facebook @snowscootin, and seeing as how he's new to the mountains here, don't hesitate to let him in on the good spots.
Meet Rani, an Australian born snowboarder.
She's lived all over Aus and now calls Jindabyne home. In the summer you can find her diving, hiking, and wakeboarding when she's not dipping into many areas of work like marketing, property management and running bars. Her favourite place in Revelstoke is the resort. She was fortunate enough to have a friend guide her out of bounds where the riding was absolutely amazing. She's hoping to discover more spots this season. Check her out on instagram @ranburg and say hello to her this season here at The Stoke!
Introducing Kate Targett!
Kate is from Calgary, Alberta and loves skiing, sled skiing, fly fishing, and mountain biking. She's an environmental consultant and freeride ski coach. This season she's been enjoying sled skiing adventures on Begbie Shoulder and Sail Mountain, ski touring in Rogers pass, and of course RMR resort laps. When she's mountain biking in the summer her favourite trails are MacPherson and Flow Down.
Looking for Mountain Adventure guidance? Follow her on instagram @ktargett to discover all the secret spots!